Chrysler Pacifica West Bloomfield MI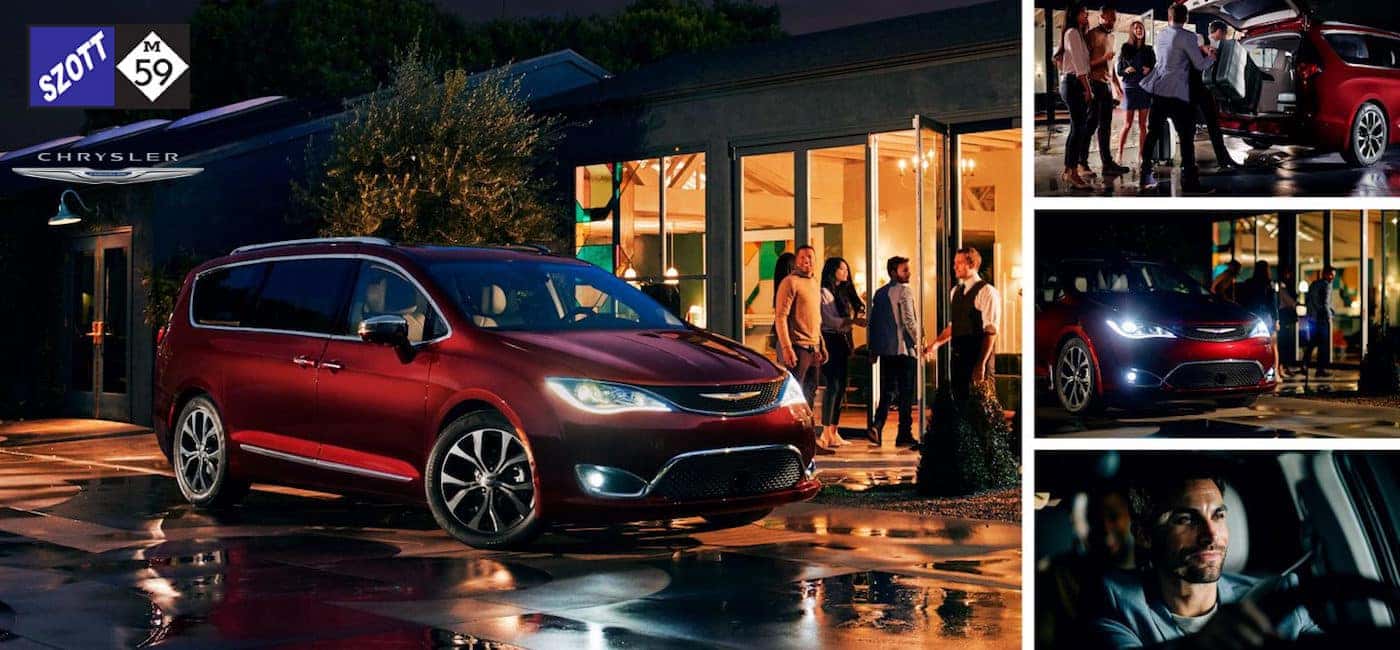 Szott M59 Chrysler Jeep
The All-New Chrysler Pacifica – The World Champion of Minivans
Your family deserves to ride in the "World's Most Capable Vehicle", the 2017 Chrysler Pacifica Minivan. Get it here at Szott M59 Chrysler Jeep.
The new Chrysler Pacifica Minivan offers top of the line technology, unbeatable safety features, and entertainment options that will make getting kids in the car a breeze. All this functionality is wrapped in a stylish package that will turn heads at every soccer practice, work event, and date night.
Fun Family Tech
While technology options vary between models of the Pacifica, all models come with a Uconnect Media & Touch Screen Display. This system allows for Bluetooth connection with devices, ensuring a safer driving experience. The Touring L Plus and Limited models come with a standard 8.4" Uconnect Touch Screen and the option of the Uconnect Theater Package. This package includes 2nd-row touchscreens that can be controlled by the passengers' compatible devices and come loaded with exciting apps!
Superior Safety
All models of the Chrysler Pacifica come standard with Parkview Rear Back-Up cameras and offer options such as Blind Spot & Cross Path Detection. When looking at the upgraded, Touring L Plus and Limited options, there are even more safety features available. These include the Lane Departure Warning, which monitors the vehicle's movement within the lane and alerts the driver if the Pacifica is drifting. Another great option is the Full-Speed Forward-Collision Warning, which monitors for potential forward impact, readies the brakes, and notifies the driver. When equipped with these features, the vehicle can adjust course or stop if the driver is non-responsive to alerts.
Szott M59 Chrysler Jeep – Your Chrysler Headquarters
If a stylish, safe, and tech-enabled van is on your list, then the Chrysler Pacifica is the vehicle that your family needs and here at Szott M59 Chrysler Jeep, we have just the selection you need to make sure you pull away in a perfect family fit. If these features aren't enough to convince you that the Chrysler Pacifica should be your next family vehicle, you'll have to come out and see it for yourself to truly get the full experience with our genuine and caring team of dedicated specialists. We'll work just as hard as your new Pacifica to ensure you get the financing options you need on the minivan you truly desire. Come out to our convenient Chrysler showroom and discover your family's new Pacifica today.
We believe in a hassle-free shopping experience and want you to feel as confident with your purchase from us as you will behind the wheel of your new Chrysler Pacifica, so visit us and let us show you all the ways we can help you accomplish your SUV shopping goals today.
New Pacifica West Bloomfield
Szott M59 Chrysler Jeep has the perfect new Chrysler Pacifica for you. Find it here, along with West Bloomfield's best service and value. Get it all today.

Pre-Owned Chrysler West Bloomfield
A fun, ultra-savvy lineup of vehicles like Chrysler is always in high demand. That's why we also carry an exciting selection of pre-owned models from which to choose. Check it out today!

Incentives and Rebates
Why not enjoy your new Chrysler along with the Szott M59 Chrysler Jeep discount? You can have your cake and eat it, too. See what's available for you and your new Chrysler from Szott.
Experience the Szott M59 Difference
Buying a vehicle is a special experience. We understand that this isn't something our customers do every day, which is why we treat every interaction with the respect that it deserves. Szott M59 has loyally served the West Bloomfield market for decades because we believe that the community and its people supersede any expectations set by a corporation. This is your community. This is our community. When you are shopping for a new or used car like the Jeep Pacifica, you expect the experience to match the promise, which is why we are open and transparent every step of the way. Below, you will find more information about the new Pacifica. We hope that you'll contact us and allow us the opportunity to show you why buying from the pros at Szott M59 Chrysler Jeep, is simply the best decision you can make.
Szott M59 Chrysler Pacifica
There's more to a vehicle demonstration than picking out colors and taking a test drive. At Szott M59 Chrysler Jeep, we want you to know everything that's important to YOU in your next new vehicle. The new Chrysler Pacifica is uniquely positioned in the West Bloomfield market to satisfy the needs of practical fun lovers everywhere – the Pacifica has the proper mixture of powerful performance and sublime comfort that's appealing to West Bloomfield. Our team is here to make sure you're aware of every feature, tip, and maintenance best practice because we take pride in delivering the ultimate shopping experience for our customers. Watch this video to get your engine revving for your new Pacifica, and then let the pros at Szott M59 take care of the rest.
Attention to detail is important. You won't miss a thing when you shop at Szott M59 Chrysler Jeep.
---
We know you have many options when it comes to car dealers in the West Bloomfield area. Our hope is that you will give us the first opportunity to earn your business because of the tremendous experience, great pricing, exciting Chrysler selection, and our commitment to making your buying experience the most positive one you've ever had when shopping for a vehicle. We stand behind the ideal of delivering the type of respectful engagement that the people of West Bloomfield deserve. If you give us the first opportunity, you'll see why our customers come back time and time again.
---
WHY SZOTT M59 Chrysler Jeep?
---
Some dealerships take pride in their sales numbers. Others point to their P&L statements to determine their success. At Szott M59 Chrysler Jeep, the most important indicator of whether or not we're successfully achieving our goals is when YOU are overwhelmed by our outstanding customer experience. It goes beyond satisfaction. We want you to be ecstatic with the way you were treated and impressed with how easy it was to get the best Chrysler deals in the whole state of Michigan. Your opinion is the one that matters to us at Szott M59 Chrysler Jeep. It's what drives our success.
---
Customers Come First
See What Our Customers Are Saying
---
---
Your Chrysler Jeep Shopping Experience
We hope we've answered most of your questions about why you should consider Szott M59 Chrysler Jeep as your first choice when shopping for a new or pre-owned Chrysler model. If you are ready to learn more, please contact us through your preferred method of communication and ask us anything you'd like to know. If you're ready to schedule your test drive, please use the form below. At Szott M59 Chrysler Jeep, you control your shopping experience. We're here to help facilitate and to be your own personal Jeep experts.