Chrysler Pacifica Waterford MI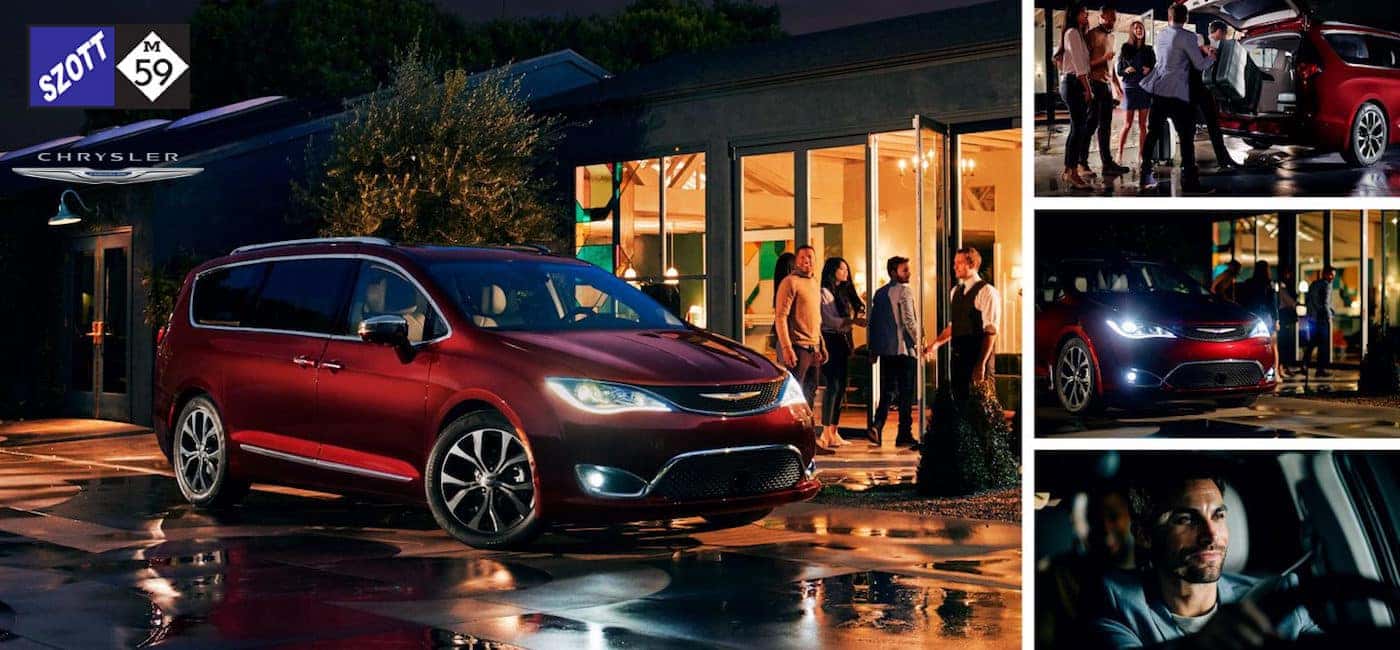 Szott M59 Chrysler Jeep
The All-New Chrysler Pacifica – Your Every Day Get Away
Find your home away from home in the refined interior of the all-new Chrysler Pacifica. The minivan just went to a whole new level of amazing.
The new Chrysler Pacifica has a spacious and utility-driven interior, ready to handle your most demanding daily grind. With our knowledgeable team and premium selection at Szott M-59 Chrysler Jeep we are ready to put you in the driver's seat and send you out to blaze new trails with your family in the beautifully crafted Pacifica.
Comfort & Convenience
Enjoy every mile you take in premium, ergonomically designed seats that support contours of your body and are available heated and ventilated along with generous leg room. The all-new Active Noise Cancellation technology provides a peaceful cabin experience, making it the quietest vehicle in its class. The available 12-way adjustable driver seat with four-way power lumbar support and memory settings, heated steering wheel and keyless entry with push-button start are part of the available comforts that make your Chrysler Pacifica your home away from home. Appreciate the Pacifica's best-in-class cargo volume and second- and third-row seats that fold down into bins in the floor. Passengers in all three rows will notice the abundant leg, shoulder and headspace for a relaxing ride. The available new seating for eight includes an easily removable center seat in the second row, adding an armrest, cup holder and bin when the seatback is folded down. The eighth seat also gives you one extra LATCH-installed child seats, offering up to five places to securely place your tots. Whether you're carrying shopping bags or a sleeping baby, getting settled has never been smoother.
Your Pacifica, Your Way At Szott M59 Chrysler Jeep
Take every drive to the highest level of enjoyment in your new Pacifica. With so many customizable interior features, and our ability to customize your purchase experience to fit your needs also, you are sure to love every moment spent in our showroom and your new Pacifica. As your local leader in all things Chrysler, we can provide you with an award-winning experience before, during and after you drive off in your new Pacifica. Our factory-trained sales and service team are equipped to give you the highest level of service and total satisfaction. Give us a call at (888) 571-3764 and let us know that you're headed our way so that we can ensure the most convenient visit for you and your family to our showroom near Waterford, MI. We can't wait to welcome your family to ours; so call us today.
We believe in a hassle-free shopping experience and want you to feel as confident with your purchase from us as you will behind the wheel of your new Chrysler Pacifica, so visit us and let us show you all the ways we can help you accomplish your SUV shopping goals today.
New Pacifica Waterford
Szott M59 Chrysler Jeep has the perfect new Chrysler Pacifica for you. Find it here, along with Waterford's best service and value. Get it all today.

Pre-Owned Chrysler Waterford
A fun, ultra-savvy lineup of vehicles like Chrysler is always in high demand. That's why we also carry an exciting selection of pre-owned models from which to choose. Check it out today!

Incentives and Rebates
Why not enjoy your new Chrysler along with the Szott M59 Chrysler Jeep discount? You can have your cake and eat it, too. See what's available for you and your new Chrysler from Szott.
Experience the Szott M59 Difference
Buying a vehicle is a special experience. We understand that this isn't something our customers do every day, which is why we treat every interaction with the respect that it deserves. Szott M59 has loyally served the Waterford market for decades because we believe that the community and its people supersede any expectations set by a corporation. This is your community. This is our community. When you are shopping for a new or used car like the Jeep Pacifica, you expect the experience to match the promise, which is why we are open and transparent every step of the way. Below, you will find more information about the new Pacifica. We hope that you'll contact us and allow us the opportunity to show you why buying from the pros at Szott M59 Chrysler Jeep, is simply the best decision you can make.
Szott M59 Chrysler Pacifica
There's more to a vehicle demonstration than picking out colors and taking a test drive. At Szott M59 Chrysler Jeep, we want you to know everything that's important to YOU in your next new vehicle. The new Chrysler Pacifica is uniquely positioned in the Waterford market to satisfy the needs of practical fun lovers everywhere – the Pacifica has the proper mixture of powerful performance and sublime comfort that's appealing to Waterford. Our team is here to make sure you're aware of every feature, tip, and maintenance best practice because we take pride in delivering the ultimate shopping experience for our customers. Watch this video to get your engine revving for your new Pacifica, and then let the pros at Szott M59 take care of the rest.
Attention to detail is important. You won't miss a thing when you shop at Szott M59 Chrysler Jeep.
---
We know you have many options when it comes to car dealers in the Waterford area. Our hope is that you will give us the first opportunity to earn your business because of the tremendous experience, great pricing, exciting Chrysler selection, and our commitment to making your buying experience the most positive one you've ever had when shopping for a vehicle. We stand behind the ideal of delivering the type of respectful engagement that the people of Waterford deserve. If you give us the first opportunity, you'll see why our customers come back time and time again.
---
WHY SZOTT M59 Chrysler Jeep?
---
Some dealerships take pride in their sales numbers. Others point to their P&L statements to determine their success. At Szott M59 Chrysler Jeep, the most important indicator of whether or not we're successfully achieving our goals is when YOU are overwhelmed by our outstanding customer experience. It goes beyond satisfaction. We want you to be ecstatic with the way you were treated and impressed with how easy it was to get the best Chrysler deals in the whole state of Michigan. Your opinion is the one that matters to us at Szott M59 Chrysler Jeep. It's what drives our success.
---
Customers Come First
See What Our Customers Are Saying
---
---
Your Chrysler Jeep Shopping Experience
We hope we've answered most of your questions about why you should consider Szott M59 Chrysler Jeep as your first choice when shopping for a new or pre-owned Chrysler model. If you are ready to learn more, please contact us through your preferred method of communication and ask us anything you'd like to know. If you're ready to schedule your test drive, please use the form below. At Szott M59 Chrysler Jeep, you control your shopping experience. We're here to help facilitate and to be your own personal Jeep experts.