Chrysler Pacifica Howell MI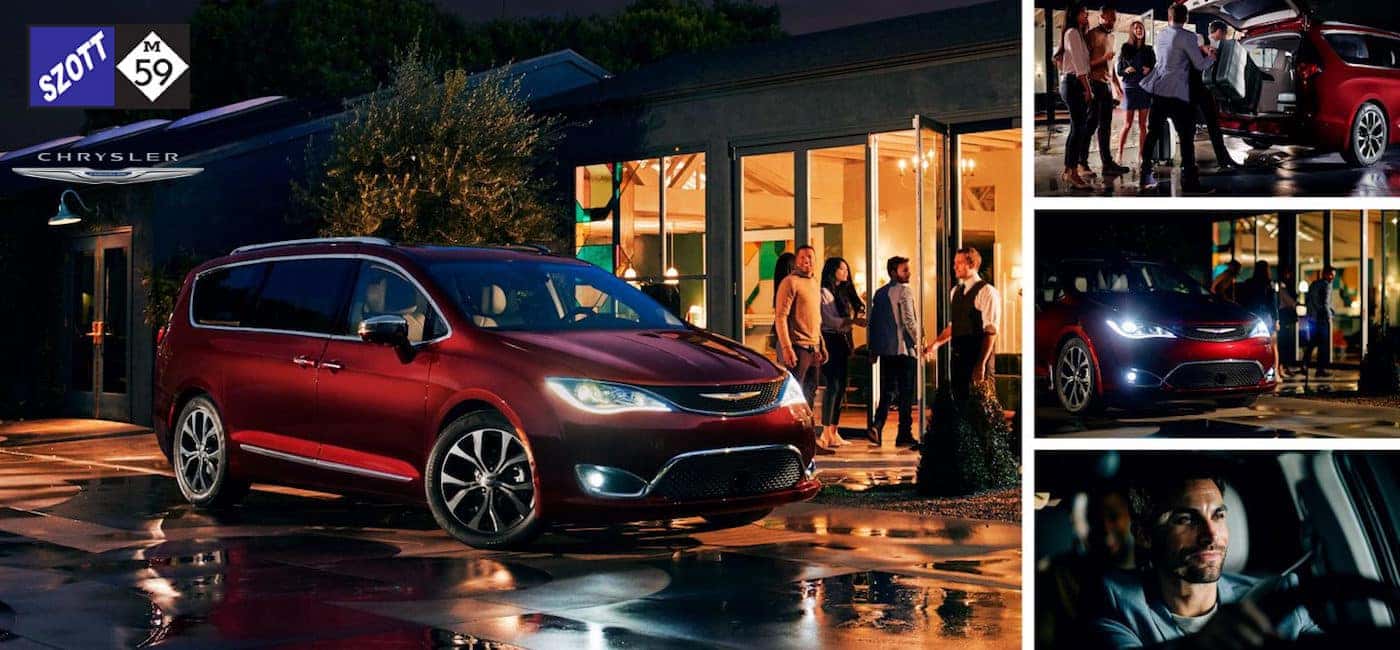 Szott M59 Chrysler Jeep
The All-New Chrysler Pacifica – A Minivan with Something for Everyone
The original inventor of the minivan has hit a homerun with the new Chrysler Pacifica. Find yours today with the help of our Chrysler specialists here at Szott M59 Chrysler Jeep.
Most people don't willingly go buy a minivan. There is typically a need, but our Howell, MI customers will be thrilled with the new Chrysler Pacifica as it has a little bit of something for everyone. Parents and kids will rejoice with all that the new Pacifica has to offer. At Szott M59 Chrysler Jeep, we took the Pacifica for a test drive and want to share our favorite features with our customers. We care about our customers and want to fill you in on some exciting new elements that you have to look forward to when you come and climb behind the wheel of the new Pacifica.
Don't Sweat The Tech
As a parent, we know that minivans aren't the most exciting vehicle to drive, but parents in Howell, MI will love the Chrysler Pacifica. Pacifica seats up to 8 passengers with stow and go seating making it convenient to haul almost anything. It also has cargo space galore for parents to store things in the middle console and the stow-and-go vacuum makes cleanup a breeze. Your kids will be thrilled with the Chrysler Pacifica, too. Pacifica is packed with technology like UConnect Theater featuring dual screen entertainment system with BluRay player USB input. It also has HDMI and Bluetooth input connectivity making access to your kid's favorite media easy. Pacifica also has available built in games and plenty of music features to keep your little ones entertained the entire ride.
Safe & Sound
We know that when you're hauling your precious cargo around town that safety is a huge consideration when considering a new vehicle. The Chrysler Pacifica is equipped with safety features like Lane Departure Warning with Lane Keep Assist, Forward Collision Alert with Active Braking, 360-degree surround camera, Adaptive Cruise Control with Stop and Go, and ParkSense with stop and rear cross detection. All of these advanced safety systems serve as a means to preemptively protect you and yours.
You're In Charge At Szott M59 Chrysler Jeep
Szott M59 Chrysler Jeep is your destination for minivans and other top of the line Chrysler vehicles. We have a large selection to choose from and have the vehicle that is right for your lifestyle and your budget. If you aren't sure which vehicle is right for you, let one of our trained and friendly specialists help you assess your needs and choose the vehicle that meets them. We can't wait to introduce you and the whole family to your new Chrysler Pacifica, so stop on by today.
We believe in a hassle-free shopping experience and want you to feel as confident with your purchase from us as you will behind the wheel of your new Chrysler Pacifica, so visit us and let us show you all the ways we can help you accomplish your SUV shopping goals today.
New Pacifica Howell
Szott M59 Chrysler Jeep has the perfect new Chrysler Pacifica for you. Find it here, along with Howell's best service and value. Get it all today.

Pre-Owned Chrysler Howell
A fun, ultra-savvy lineup of vehicles like Chrysler is always in high demand. That's why we also carry an exciting selection of pre-owned models from which to choose. Check it out today!

Incentives and Rebates
Why not enjoy your new Chrysler along with the Szott M59 Chrysler Jeep discount? You can have your cake and eat it, too. See what's available for you and your new Chrysler from Szott.
Experience the Szott M59 Difference
Buying a vehicle is a special experience. We understand that this isn't something our customers do every day, which is why we treat every interaction with the respect that it deserves. Szott M59 has loyally served the Howell market for decades because we believe that the community and its people supersede any expectations set by a corporation. This is your community. This is our community. When you are shopping for a new or used car like the Jeep Pacifica, you expect the experience to match the promise, which is why we are open and transparent every step of the way. Below, you will find more information about the new Pacifica. We hope that you'll contact us and allow us the opportunity to show you why buying from the pros at Szott M59 Chrysler Jeep, is simply the best decision you can make.
Szott M59 Chrysler Pacifica
There's more to a vehicle demonstration than picking out colors and taking a test drive. At Szott M59 Chrysler Jeep, we want you to know everything that's important to YOU in your next new vehicle. The new Chrysler Pacifica is uniquely positioned in the Howell market to satisfy the needs of practical fun lovers everywhere – the Pacifica has the proper mixture of powerful performance and sublime comfort that's appealing to Howell. Our team is here to make sure you're aware of every feature, tip, and maintenance best practice because we take pride in delivering the ultimate shopping experience for our customers. Watch this video to get your engine revving for your new Pacifica, and then let the pros at Szott M59 take care of the rest.
Attention to detail is important. You won't miss a thing when you shop at Szott M59 Chrysler Jeep.
---
We know you have many options when it comes to car dealers in the Howell area. Our hope is that you will give us the first opportunity to earn your business because of the tremendous experience, great pricing, exciting Chrysler selection, and our commitment to making your buying experience the most positive one you've ever had when shopping for a vehicle. We stand behind the ideal of delivering the type of respectful engagement that the people of Howell deserve. If you give us the first opportunity, you'll see why our customers come back time and time again.
---
WHY SZOTT M59 Chrysler Jeep?
---
Some dealerships take pride in their sales numbers. Others point to their P&L statements to determine their success. At Szott M59 Chrysler Jeep, the most important indicator of whether or not we're successfully achieving our goals is when YOU are overwhelmed by our outstanding customer experience. It goes beyond satisfaction. We want you to be ecstatic with the way you were treated and impressed with how easy it was to get the best Chrysler deals in the whole state of Michigan. Your opinion is the one that matters to us at Szott M59 Chrysler Jeep. It's what drives our success.
---
Customers Come First
See What Our Customers Are Saying
---
---
Your Chrysler Jeep Shopping Experience
We hope we've answered most of your questions about why you should consider Szott M59 Chrysler Jeep as your first choice when shopping for a new or pre-owned Chrysler model. If you are ready to learn more, please contact us through your preferred method of communication and ask us anything you'd like to know. If you're ready to schedule your test drive, please use the form below. At Szott M59 Chrysler Jeep, you control your shopping experience. We're here to help facilitate and to be your own personal Jeep experts.