2018 Jeep Wrangler Highland MI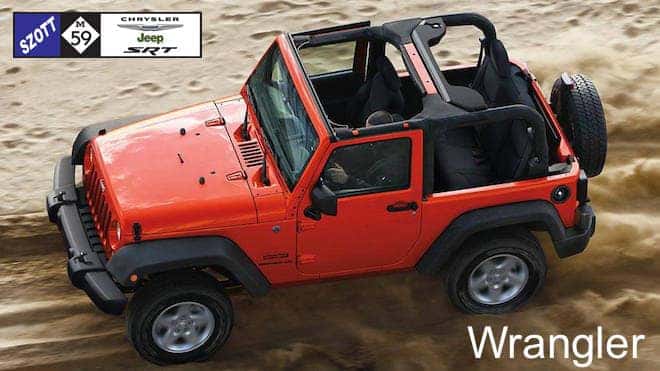 Szott M59 Chrysler Jeep
Adventures Await You in the Jeep Wrangler
The newest and most exciting addition to the Jeep lineup is the 2018 version of the Wrangler. This new version of the classic off-roader you want to experience on the trails is waiting for you at our dealership of Szott M59 Chrysler Jeep. Imagine the fun you can have in this SUV that you'll take home to Highland, MI today after you see our expert team.
A Modern Classic
The Jeep Wrangler has been one of the most iconic SUVs on the market and you'll be lured to the area of our lot where these vehicles reside. Take a walk around and look at the proportions which are only slightly larger than in the past while you also admire the classic look and feel of an SUV you've become familiar with in the past. This is a vehicle that will make you daydream about heading out on the trails to have the fun you want in the wilderness, and our team can help make that happen for you when you make the drive from Highland to White Lake, MI to see what our team has to offer today.
Dizzying Your Mind
What makes the Jeep Wrangler one of the most admired and desired vehicles on the market? This SUV is one that matches up to more upgrades on the market than any other. There are so many custom items you can add that you'll be amazed by what you can do with the Wrangler. Before you take yours to a custom shop, ask our team what can be added by our dealership. This allows you to have dealer included items that will also be covered by the warranty you enjoy for this vehicle to give you the peace of mind you'll enjoy.
Making the 2018 Model Better
Jeep offers the newest version of the Wrangler for you to drive. The size difference you notice when you see it on our lot is in a vehicle that's longer, wider, and improved from last year. There are new engines you can choose and an interior that's more comfortable than in the past. If you like to fold down the windshield, this is much easier than in the past and the doors are lighter and easier to remove as well. Le our team show you everything you want to know about the Wrangler today.
Driving on the Road is Better Too
One of the only drawbacks of the Jeep Wrangler of the past was the on-road driving experience. That's not the case any longer. With a suspension that's tuned right, the Wrangler you choose at our location will be easier for you to experience on the road. Imagine driving around Highland, MI showing offer the new 2018 Jeep Wrangler you chose from our dealership of Szott M59 Chrysler Jeep. Come in and let our team help you have the right version of this SUV for you to have the fun you want on and off the trails today.

New Wrangler Highland
Szott M59 Chrysler Jeep has the perfect new Jeep Wrangler for you. Find it here, along with Highland's best service and value. Get it all today.

Pre-Owned Wrangler Highland
A fun, ultra-savvy lineup of vehicles like the Wrangler is always in high demand. That's why we also carry an exciting selection of pre-owned models from which to choose. Check it out today!

Incentives and Rebates
Why not enjoy your new Jeep along with the Szott M59 Chrysler Jeep discount? You can have your cake and eat it, too. See what's available for you and your new Jeep from Szott.
Experience the Szott M59 Difference
Buying a vehicle is a special experience. We understand that this isn't something our customers do every day, which is why we treat every interaction with the respect that it deserves. Szott M59 has loyally served the Highland market for decades because we believe that the community and its people supersede any expectations set by a corporation. This is your community. This is our community. When you are shopping for a new or used car like the Jeep Wrangler, you expect the experience to match the promise, which is why we are open and transparent every step of the way. Below, you will find more information about the new Wrangler. We hope that you'll contact us and allow us the opportunity to show you why buying from the pros at Szott M59 Chrysler Jeep, is simply the best decision you can make.
Szott M59 Jeep Wrangler
There's more to a vehicle demonstration than picking out colors and taking a test drive. At Szott M59 Chrysler Jeep, we want you to know everything that's important to YOU in your next new vehicle. The new Jeep Wrangler is uniquely positioned in the Highland market to satisfy the needs of practical fun lovers everywhere – the Wrangler has the proper mixture of athletic performance and adventurous features that's appealing to the people of Highland. Our team is here to make sure you're aware of every feature, tip, and maintenance best practice because we take pride in delivering the ultimate shopping experience for our customers. Watch this video to get your engine revving for your new Wrangler, and then let the pros at Szott M59 take care of the rest.
Attention to detail is important. You won't miss a thing when you shop at Szott M59 Chrysler Jeep.
---
We know you have many options when it comes to car dealers in the Highland area. Our hope is that you will give us the first opportunity to earn your business because of the tremendous experience, great pricing, exciting Jeep selection, and our commitment to making your buying experience the most positive one you've ever had when shopping for a vehicle. We stand behind the ideal of delivering the type of respectful engagement that the people of Highland deserve. If you give us the first opportunity, you'll see why our customers come back time and time again.
---
WHY SZOTT M59 Chrysler Jeep?
---
Some dealerships take pride in their sales numbers. Others point to their P&L statements to determine their success. At Szott M59 Chrysler Jeep, the most important indicator of whether or not we're successfully achieving our goals is when YOU are overwhelmed by our outstanding customer experience. It goes beyond satisfaction. We want you to be ecstatic with the way you were treated and impressed with how easy it was to get the best Jeep deal in the whole state of Michigan. Your opinion is the one that matters to us at Szott M59 Chrysler Jeep. It's what drives our success.
---
Customers Come First
See What Our Customers Are Saying
---
---
Your Chrysler Jeep Shopping Experience
We hope we've answered most of your questions about why you should consider Szott M59 Chrysler Jeep as your first choice when shopping for a new or pre-owned Jeep model. If you are ready to learn more, please contact us through your preferred method of communication and ask us anything you'd like to know. If you're ready to schedule your test drive, please use the form below. At Szott M59 Chrysler Jeep, you control your shopping experience. We're here to help facilitate and to be your own personal Jeep experts.